Water Damage and Mold Removal in Orange County
Dealing with a water damage emergency can be one of the most trying times for a property owner. Property owners in Orlando are familiar with the natural causes that can lead to floods, such as hurricanes and tropical storms. However when the unexpected strikes, it's important to have a game plan as to how to proceed. Your best bet is to call the professionals at 321-209-6388 to take care of the water damage restoration service in Orange County.
The technicians in Orange County are certified and bonded, so you can rest assured knowing that you are in the best hands possible. The staff goes above and beyond to put your needs first during any flood damage repair, so there is no need to worry. If you want a water damage expert in Orange County that truly understands your needs during any water damage emergency, call 911 Restoration of Orlando today at 321-209-6388.

Timely Water Remediation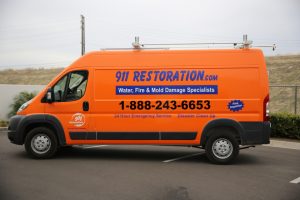 When dealing with a flood cleanup due to burst pipes or another emergency on the property, timely service is one of the most important aspects. The trained technicians at 911 Restoration of Orlando understand the urgency of this matter, and work around the clock to provide you with the best service possible. All calls are answered and responded to within 45 minutes, so you will never be kept waiting for quality flood cleanup services in Orange County.

When pipes burst unexpectedly on the property in the Deltona area, it can be difficult to know how to proceed. The techs understand what a difficult time this can be, and work diligently to clean any excess water on the property as swiftly as possible. They truly understand all of your water remediation needs, as well as all of your emotional needs during this time.

The customer is always put first in any water extraction, and the staff works to ensure that you remain comfortable the entire way. In addition, the professionals work with all insurance companies, so the best plan to proceed will be selected with you in mind.

If there is excess water from a flood on your property in Bay Lake, the best thing to do is to leave it to the professionals. All black water will be removed in a prompt manner, and your property will be restored in no time. This water damage emergency will not be the end of your property, but rather the opportunity for a Fresh Start. If you want a complete home restoration from a staff that goes above and beyond to providing you service for water damage restoration in Orange County, call 911 Restoration of Orlando today at 321-209-6388.

Mold Removal After a Water Damage Emergency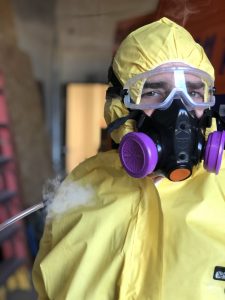 Mold decontamination is an important step to take after any flood cleanup on the property in Orange County. The black spores left behind can continue to multiply, destroying the property and leaving you with some unfortunate symptoms. If you are experiencing headaches or a cough after spotting mold on the property in Kissimmee, let us know we provide our mold removal service in Orange County.
The techs use infrared technology to inspect every area of the property for hidden mold, so no area will be left untreated. Mold often thrives in small, damp areas such as crawl spaces, but the staff is highly trained to find it and remove it as soon as possible.
The mold remediation specialist in Orange County has years of experience, so you can trust them to restore your property to its natural state. In addition, third party laboratory mold testing is used, so the property will be as clean as possible after any remediation. The excess moisture can cause the spores to multiply, but the techs will put a stop to it as soon as possible.
The techs work diligently on the mold remediation so it is handled as quickly as possible. If any concerns arise, the staff is happy to answer them so you feel completely comfortable during the process.
The customer comes first in any mold inspection, and we are happy to provide you and your property with the Fresh Start that you need. If you want mold inspection techs that truly care about your needs, look no further. Call 911 Restoration of Orlando for quality mold removal services and technicians that you can trust. Call us at 321-209-6388 and allow us to help you out.

Servicing the cities of Orlando, Altamonte SPrings, Apopka, Azalea Park, Bay Lake, Belle Isle, Bihlo, Buena Ventura Lakes, Casselberry, Clarcona, Clermont, Christmas, DeLand, De Leon Springs, Deltona, Daytona Beach, Doctor Phillips, Edgewater, Eustis, Fairview Shores, Forest City, Fruitland Park, Geneva, Goldenrod, Groveland, Heather, Hunters Creek, Kenansville, Kissimmee, Lady Lake, Lake Butler, Lake Mary, Leesburg, Lockhart, Longwood, Maitland, Meadow Woods, Minneola, Montverde, Mount Dora, Mount Plymouth, Ocoee, Okahumpka, Orange City, Oviedo, Pine Hills, Sanford, Seminole County, Sorrento, Southchase, St. Cloud, Tavares, Umatilla, Union Park, Wedgefield, Wekiva Springs, Williamsburg, Windermer, Winter Garden, Winter Park, Zellwood, and surrounding areas.