Sanitization Services in Orlando
The recent coronavirus outbreak in Orlando has left everyone scrambling to figure out what to do moving forward. 
One bright bit of news is there indeed is something that property owners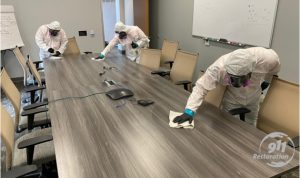 can do to help get things back to normal quickly. This simple yet effective solution is to stay on top of your sanitization and disinfection protocol. 
That's why it's more important than ever to ensure you utilize professional sanitization and covid 19 cleaning services. Doing so will ensure that everyone that comes into contact with your property remains protected from COVID-19.
Our professional technicians are available 24/7 and we also provide water damage restoration assistance and fire damage restoration services.
Treat Buildings to Reduce Risk
Studies have shown that anyone who is elderly, pregnant, or has otherwise compromised immune system is at an increased risk for the most severe symptoms of coronavirus. These symptoms include kidney failure, severe acute respiratory syndrome, and even death. However, coronavirus has already proven it can infect anyone who doesn't take the proper precautions.
COVID-19 spreads quietly, which is why symptoms aren't reported until after 14 days have passed. That's a lot of time for the virus to spread. 
Understanding the Sanitization Process
Our IICRC certified technicians at 911 Restoration of Orlando are ready 24/7/365 to provide professional commercial water damage and residential water damage.
We deliver sanitization and disinfection solutions designed to handle your concerns regardless if it's office deep cleaning or standard home sanitization. Give us a call at 321-209-6388 and see how we can help you out.

With us, you can count on us to deliver a Fresh Start you and everyone else in Orlando needs. For covid 19 cleaning services in Orlando, you can reach us at 321-209-6388