Disaster Restoration Orlando
As a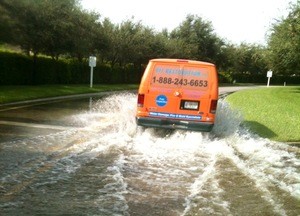 local property owner, you might find yourself dealing with sudden tropical storm restoration, hurricane restoration, or any other restoration in Orlando. The good news is that 911 Restoration is always here for you. Our IICRC-certified disaster restoration staff can handle all damages, from fire damage to flood. They also offer the fastest response time in the local area. Call at any hour of the day or night, and our emergency restoration workers will be there in 45 minutes or less. Give us a call at 321-209-6388 and allow us to offer you a free visual inspection.

We're not just fast. We're also thorough. We believe even the storm damage is an opportunity for a Fresh Start. With this philosophy in mind, our storm damage repair in Orlando professionals works diligently to make your property shine again. They handle hurricane restoration in Orlando, from the initial cleanup to the final structural repairs
We make sure you never have to deal with multiple contractors. One call to us at 321-209-6388 takes care of all your property restoration needs.
Above all, we work to give you peace of mind. When a disaster strikes your home or business, your mind is immediately flooded with worries. You need to know what it takes to rebuild and how much it will cost. You need a contractor who hears all your concerns and takes your needs seriously. Count on 911 Restoration. We provide a free visual inspection (for property owners only). During this inspection, an emergency restoration professional examines your damage and helps you plan the way forward. Then, we help you make sense of your insurance policy. During our free insurance consultation, you learn exactly which disaster restoration services your provider pays for. Our staff assists with inventory and loss itemization, claim to file, and direct billing.
911 Restoration of Orlando is licensed, insured, bonded, and locally owned and operated. We provide residential and commercial disaster restoration in Orlando, Deltona, Kissimmee, and the surrounding area.
If you need immediate, expert help, call 911 Restoration at 321-209-6388. We'll take it from here.
Your On-Call Water Damage Restoration Experts
Water damage restoration is almost always a major aspect of disaster restoration in Orlando. Many of our major disasters are water-related. These include hurricanes, tropical storms, and property floods. Even home or business owners recovering from the fire may need water mitigation Orlando service to clean firehose flooding.
Our water damage restoration process includes everything you need for a Fresh Start. Our technicians focus on the most urgent services first, including: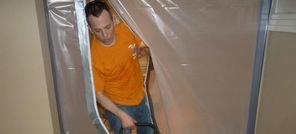 Water Removal

Boarding up

Storm Restoration

Roof Repair

Packing out and storing at-risk items

And more
The storm restoration workers also sanitize and dry your home or business after flood cleanup. This helps prevent structural damage and ensures a safe environment for your family, your staff, and yourself.
As with all storm restoration services, we conclude water damage restoration with all the repairs needed to make your property new. Our disaster restoration technicians also inspect for mold and conduct comprehensive mold 911, if needed.
When water strikes your property, don't panic. You can find everything you need for a full recovery at 911 Restoration of Orlando. Call us today at 321-209-6388 and breathe easy.
Full-Service Emergency Restoration in Orlando
No matter what type of disaster you're dealing with, 911 Restoration does everything possible to ensure a full recovery. Our restoration experts repair your roof, replace your drywall, and remove your contaminated carpet. They clean smoke after a fire damage Sanford FL, and they remove odors permanently. They handle sewage backup cleanup and mold removal with the utmost caution, leaving you with a space that's fully disinfected and decontaminated.
In addition to providing all these practical services, our disaster restoration crew also delivers much-needed peace of mind.
Any property disaster is devastating. You've poured your whole life into your home or business, and a single storm can make all your hard work seem meaningless. It's not. We're here to assure you of that fact with full-service restoration and clear answers to all your questions.
When you call us, we offer a free visual inspection (for property owners only). This is a zero-obligation service during which a disaster restoration expert explains what you need for a Fresh Start. They examine your damage and review your options.
We May The Insurance Process Simple
We also work to simplify the insurance process with a free insurance consultation. A staff member takes a look at your policy and explains your coverage. When the disaster restoration process begins, you have a clear understanding of what your provider will pay for. Then, we make sure you get the coverage you've been promised. We assist with inventory and loss itemization, file your claim, and bill your provider directly.
Whatever the cause may be, you can find relief from water damage with the 911 Restoration of Orlando. You can reach our IICRC-certified staff immediately after your disaster, even if it happens in the middle of the night or on a holiday. We're here 24/7/365, and our emergency restoration crew guarantees an arrival time of 45 minutes or less.
We know the path forward seems long, difficult, and uncertain. Stick with us. We'll deliver a Fresh Start quickly and with as little stress as possible. Call storm restoration services in Orlando today at 321-209-6388.
Serving the communities of Orlando, Altamonte Springs, Apopka, Bay Lake, Casselberry, Clarcona, Clermont, Christmas, DeLand, De Leon Springs, Deltona, Daytona Beach, Doctor Phillips, Edgewater, Goldenrod, Heathrow, Hunters Creek, Kenansville, Kissimmee, Lake Mary, Leesburg, Ocoee, Okahumpka, Orange City, Orange County, Oviedo, Pine Hills, Sanford, St. Cloud, Union Park, Winter Garden, Winter Park, Winter Springs and surrounding areas.