Water Damage Pine Hills
Water damage is a common occurrence throughout Florida, especially in Pine Hills since we are so close to Lake Apopka. Our water damage Pine Hills crew is available 24/7 so that 911 Restoration Orlando can respond within 45 minutes when rain leaks flood your home. We are licensed, insured, and bonded using the latest drying technology to complete water extractions quickly and efficiently. When we arrive we will take care of:
Water Removal
Mold Remediation
Disaster Restoration
Sewage Backup Cleanup
When know how important it is to offer all of these services in a timely manner because they can all lead into each other. A toilet overflow will need water removal as well as sanitation services. If it is left unattended for 24 hours mold will likely grow in its place. Additional affects of water damage include drywall stains, ruined carpets, and support beam rot. We can handle all of these emergencies with our water damage restoration services, and all for an affordable price.
Pine Hills lies in the center of three lakes: Starke Lake, Lake Orlando, and Lawne Lake. With the water coming off of Lake Apopka and the summer-present threat of hurricanes, these lakes can quickly flood. When overrun from these bodies of water enter your home, whether through a pipe burst or other danger, call our water damage Pine Hills team for same day service.
Who do I Call if I have a Pipe Burst?
If you have a pipe burst call our water damage Pine Hills specialists for drying and clean up. We have over 35 years of experience, so we know how to get the job done in a quality manner while still keeping time and costs low. Once we clean up all the gray water, we will inspect the issue and offer solutions on how to prevent it in the future, such as plumbing repair when you notice leaks or aligning your storm downspouts away from the home.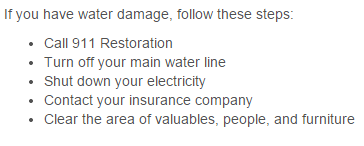 It is important you understand what your insurance covers when it comes to a pipe burst. As long as you take preventative maintenance by installing a sewage back flow valve and replacing old appliances, the disaster restoration should be covered. If it is not, our water damage Pine Hills technicians offer an affordable price. We always put the customer first, so we will even file your water damage insurance claim for you, so call us when you have a pipe burst.
How do I File a Water Damage Claim?
The best way to file a water damage claim is to allow our water damage Pine Hills professionals to do it for you. We are working with all insurance companies to get you the most out of your coverage. Insurance companies only pay out if negligence was not an issue in causing the floods, we will prove that you are a responsible homeowner so that you get the funds you deserve, then we will restore your home to its proper order.
Living so close to the lakes means that you should also carry flood insurance, which will take care of the cost of rising waters that enter your home when homeowner's insurance will not. According to the Insurance Information Institute, floods from hurricanes and other tropical storms are the most common causes of water damage so you should always be prepared.
We know how frustrating a washer burst or water heater flood can be, so we work hard to make the whole ordeal run smoothly for you. We value professionalism. 911 Restoration Pine Hills is on your side when it comes to water removal. We have over 35 years of experience helping customers just like you overcome the worst floods, from a fire sprinkler malfunction to rain leaks that spawned mold spores. Call our water damage Pine Hills operatives when your building falls victim to storms or a water line problem because we are the best water damage restoration company.
What is the Best Water Damage Restoration Company?
The best water damage restoration company is 911 Restoration because we are licensed, insured, and bonded in all disaster restoration service e=. We make sure your home is returned to normal by the time we leave and offer a free inspection to visually check for mold left in the wake of disaster. We can help you with odor removal, reconstruction a, drying, and clean up as well. When your home floods call our water damage Pine Hills staff and we will be happy to provide you with a fresh start in the city of Pine Hills.