Water Damage Restoration Orlando
Our water damage restoration Orlando techs at 911 Restoration Orlando offer same day services for all water emergencies and are available 24/7/365 to assist you with all home restoration needs.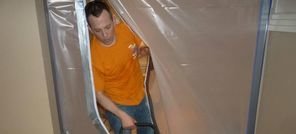 Our water damage restoration Orlando agents keep our phone lines around the clock, so you can contact our specialists to make an appointment for assistance the moment you discover any mold-like substance or water damage.
We always respond within 45 minutes, because we understand how important it is to remediate water-related issues quickly in order to prevent mold and permanent structural damage. 
In order to keep you as safe as possible, our water damage restoration Orlando technicians will always respond this quickly. We are a company run that runs on kindness and a genuine need to help others, because owner Tomas Lelczak is a man dedicated to the community.
His favorite part of restoring homes is knowing that when his crews arrive at their door they are saving someone's day. He receives honest joy knowing that he is helping people. Everyday there is a new disaster, especially in Orlando where hurricanes are prevalent, and our water damage restoration Orlando crews want to be your go-to guys for all your needs, no matter how big or small.
Where there is moisture, our water damage restoration Orlando staff knows that there is usually mold, which can be damaging to both the structure of the home, as well as the health of those living inside of it.
You can trust our water damage restoration Orlando crew to get your home mold free and sanitized quickly, because your safety is important to us. Our pros work with IICRC certified technicians and are able to provide you with the most comprehensive restoration efforts in the industry.
In 2008, rainwater flooded most of the roads in Orlando, trapping residents inside their homes. With the greater Orlando area underwater, 911 Restoration was exceptionally busy, and we worked tirelessly to help the community as much as we could during those turbulent times. You can trust that we have years of experience offering services, such as:
Water extraction in flooded basement

Flooded subfloor cleanup

Repair of ruptured washer hose

Sanitization after toilet overflow

Fire sprinkler repair

Water heater leak repair

Mold infestation clean up

Comprehensive mold and water damage repair

Moldy crawlspace cleanup

Restoration of pipe bursts
We have been repairing homes for decades, and we have seen it all, from leaky roofs and flooded basements to pipe bursts and hurricane damage. So, call Tomas if severe weather causes water damage in your home to receive immediate help from our IICRC certified water damage restoration Orlando professionals.
Water Damage Restoration: From Leak to Rebuild
Since water damage does not stop with a simple pipe leak, our water damage restoration services do not stop with a dry out. When we are hired to restore your home after a water invasion, we implement comprehensive services that deal with all aspects of the cleanup job.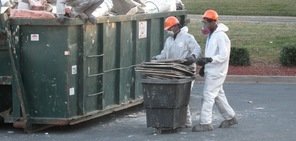 When we get to your home we will immediately start the process by initiating a free home inspection. This way both the homeowner and the repair workers are on the same page concerning the work that needs to be done, limiting any surprises later on down the line.
With the latest water extraction and drying technology, we get to work immediately after the initial inspection. Our water damage restoration Orlando experts want to get things started quickly, that way mold doesn't have any time to start growing.
Once all the water has been removed, we will replace water logged carpets, rotten wood, and other damaged goods. We always repair the cause of the disaster at the source of the problem, that way we know we are doing our part to prevent future water disasters. Keeping you safe is important to us, and we will always go the extra mile to ensure that your home is up to code when we are finished with it.
Many times homeowner's find that when their home is affected by water damage, that this is the best time to upgrade their property. If a dishwasher suffers a ruptured hose and the entire interior wall is damaged, perhaps it is time to replace the wall with a counter top, giving you a clear view of the family room from your kitchen.
We know how to turn a water emergency into a fresh start, and sometimes that means that when your bathroom is flooded with water, instead of looking at it as a disaster, you can see it as an opportunity to get your dream bathroom.
One of the biggest ways our water damage restoration Orlando staff outranks many other companies in the field is by working closely with the insurance company. In doing so, we hope to let you know that the professionalism you receive from our water damage restoration Orlando crews is the same respect we impart to everyone else we come into contact with.
If you experience a leak during a heavy storm you can count on our water damage restoration Orlando professionals to mitigate the issue. However, even though our team is standing by, it is still important to take preventative measures in order to stop mold from infesting your roof.
One of the ways our water damage restoration Orlando staff suggests protecting your roof is by creating an emergency roof covering, which will help keep your home's interior dry and stop mold spores from sprouting.
We know how to make a covering seem easy. You need is a large piece of plastic tarp that reaches from eave to ridge, plus four extra feet, that measures eight feet wide. Staple both ends of the plastic to eight-foot-long-two-by-fours and place them on either side of the roof to weigh down the plastic.
Even though our water damage restoration Orlando agents recommend making this DIY roof tarp to prevent moisture from causing mold and other damage, do not hesitate to call our specialists when you need professional help.
Tomas and his crew understand the financial ramifications of floods, so we go further than other companies will by working directly with your insurance company. We understand that it can be confusing to understand if your damage is covered by your policy, so our water damage restoration Orlando agents will go the extra mile by filing your claim for you.
We Know How To Deal With Serial Pipe Bursts
One type of  job our water damage restoration Orlando operatives were happy to take on was on one day in particular when a property manager called us due to a leaky pipe.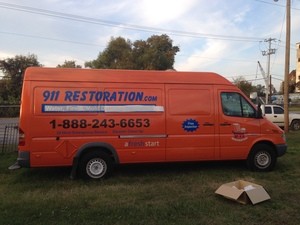 We understood the problem immediately,  because we discovered that ploybutylene pipes had been used in the building's construction.
This material has since been outlawed for use in water lines due to its tendency to crack. As this condo complex grew older, more and more pipes were cracking.
In this particular condo, the tenant noticed the leak a week prior to the call. Unfortunately, the owner of the condo had been in the hospital. One problem was spiraling into another.
Mold had already sprouted across the wall where the leak was contained, so the normal plumber could not get to the issue. Before the fungus spread and sent the tenant to the hospital as well, 911 Restoration Orlando arrived in full force.
With proper hazmat gear and equipment, our water damage restoration Orlando experts were able to replace the plumbing, repair the damage and remove all traces of mold spores that were on the premises.
Our water damage restoration Orlando professionals knows that it is important to get your home cleared of all water damage and mold, but it is equally important to team, if not more, to make sure that your wellbeing is in tact throughout the entire cleanup process..
Our staff puts a great emphasis on customer service, which is something that our water damage restoration Orlando technicians take great pride in. We want our customers to know that our water damage restoration Orlando agents are here to help them in any way they need it, including to file their insurance claim.
Throughout all of our experience on different jobs, our water damage restoration Orlando agents know exactly what information insurance companies need to get you the best coverage your policy allows, and we will do our best to get you the financial aid you need.
Whether you have a single-family home with a small roof leak, or a multi-unit complex with a maze of outdated plumbing, Tomas and his water damage restoration Orlando technicians can repair it all. So, call us today and our crews will turn your water emergency into the fresh start you deserve!