Water Damage in Leesburg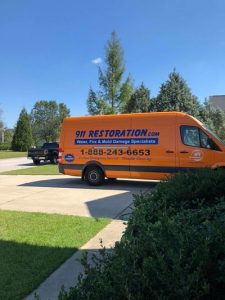 Commercial and residential properties may be at risk for water damage caused by hurricanes, tropical storms, or pipe bursts in Leesburg. Excess water can start causing damage right away and the problem can continue to worsen if the water is allowed to remain.
Fortunately, you can get flood cleanup services within 45 minutes of an emergency call by contacting 911 Restoration of Orlando. Our Leesburg water damage restoration crews are trained and equipped to:
Perform Emergency Water Extraction, Roof Repairs, and Boarding Up

Dry Out Your Property Using Dehumidifiers, Fans, and Air Movers

Repair Damage Caused by Pipe Bursts and Perform a Mold Inspection
Mold inspections in Leesburg can help you determine if water damage led to a fungal infestation. If mold removal technicians spot mold growth they can begin same-day mold remediation and mold decontamination services. Take care of your property today by contacting us immediately for water damage restoration services.
The Benefits of Water Damage Restoration in Leesburg
Pipe bursts, heavy rains, and sewage backups can leave you unsure what to do next. The experienced water damage restoration technicians at 911 Restoration of Orlando know exactly how to handle flood cleanup.
We are licensed, bonded, and insured to deal with commercial and residential flood cleanup in Leesburg. Crews will quickly get water out of your property and search for remaining spots of moisture with an infrared scanner.
As a full-service property restoration company, we are also IICRC certified to take care of mold inspections and mold removal in Leesburg. Getting your property back into perfect condition after a pipe burst may require dedicated mold remediation and mold decontamination in Leesburg.
Get Personalized Mold Remediation in Leesburg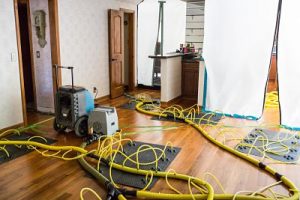 The flood cleanup crews at 911 Restoration of Orlando understand that all property restoration jobs are unique. We put you first during the water damage restoration and mold remediation process, customizing the services you receive to ensure you can get a Fresh Start.
Depending upon your specific needs, flood cleanup technicians may:
Complete a Mold Inspection

Focus on Mold Removal in Leesburg

Start Mold Decontamination to Handle Odor Removal

Deal with the Damage Caused by a Pipe Burst

Fix Leaking Pipes or Clogged Sewage Lines

Repair Leaking Ceilings and Carpet Water Damage
Our water damage restoration and mold removal crews believe that your property should be returned to better-than-new condition. Let us get to work for you right now so you can get back your peace of mind with mold decontamination and mold remediation in Leesburg.
Servicing the cities of Orlando, Bay Lake, Casselberry, DeLand, Doctor Phillips, Forest City, Groveland, Kissimmee, Leesburg, Meadow Woods, Mount Plymouth, Orange County, Seminole County, Tavares, Wekiva Springs, Winter Park, Altamonte Springs, Belle Isle, Clarcona, De Leon Springs, Edgewater, Fruitland Park, Heathrow, Lady Lake, Lockhart, Minneola, Ocoee, Oviedo, Sorrento, Umatilla, Williamsburg, Winter Springs, Apopka, Bithlo, Clermont, Deltona, Eustis, Geneva, Hunters Creek, Lake Butler, Longwood, Montverde, Okahumpka, Pine Hills, Southchase, Union Park, Windermere, Zellwood, Azalea Park, Buena Ventura Lakes, Christmas, Daytona Beach, Fairview Shores, Goldenrod, Kenansville, Lake Mary, Maitland, Mount Dora, Orange City, Sanford, St. Cloud, Wedgefield, Winter Garden… and surrounding areas.