Sewage Backup Cleanup in Orlando
There is no such thing as a minor sewage backup. Any black water on your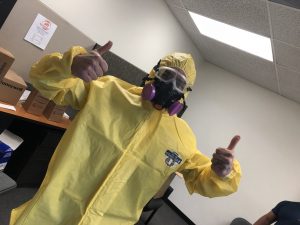 property constitutes an emergency. Between the threat of damage and the danger of disease-causing microorganisms, you need help fast.
911 Restoration of Orlando provides the urgent response you need for sewer backup in Orlando. You can even call us in the dead of night; we're here for you 24/7/365. Our water mitigation Orlando crew arrives in 45 minutes or less, guaranteed. It doesn't matter if you own a hotel in Orlando or a home in Kissimmee. We're your best choice for emergency sewage backup cleanup. Give us a call at 321-209-6388 and allow us to offer you a free visual inspection.

We are licensed, insured, bonded, and offer a wide range of sewage cleanup services in Orlando. 911 Restoration is not just a water removal company. We cover sanitization services, structural repairs, mold removal services, and anything else you need for a Fresh Start.
As a locally owned and operated business, we're dedicated to maintaining the properties that make the Orlando area great. You can trust our sewage backup cleanup technicians to treat your property as if it were their own. We also emphasize compassion and communication in our work. Your peace of mind is a top priority.
You see this dedication in our additional free services. Through our free visual inspection (for property owners only), you gain a clear understanding of what you need to recover from your sewage backup. We also offer a free insurance consultation to clarify which sewage cleanup services your provider covers. 911 Restoration of Orlando works with all types of insurance, and we even offer assistance with claim filing.
Believe it or not, your property can be the same after toilet water damage. In fact, it can be better than ever. Call 911 Restoration of Orlando for a Fresh Start at 321-209-6388.

Get Immediate Sewage Water Removal in Orlando
Our emergency response times have made 911 Restoration the go-to company for water damage restoration in Orlando and beyond.
We know that when a sewage backup occurs, you can't be expected to wait for regular business hours. You also shouldn't be left waiting for sewage cleanup tech to arrive at some unspecified time within a vague time frame. You need help immediately, and you need to know when you can expect water removal service.
To put your mind at ease, we offer 24-hour sewage backup cleanup in Orlando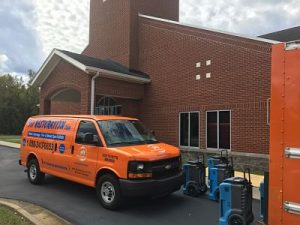 with a 45-minute arrival time. Our compassionate technicians understand that your problem simply cannot wait. A sewage backup isn't just gross; it's also a threat to your property and your wellness. We care about protecting both. Contact us at 321-209-6388 and see how we can help you with sewage cleanup in Orlando.

When our water damage restoration crew arrives, they begin sewage water removal immediately. Then, they work quickly to sanitize your space and dry the structure. By working at top speed, our sewage backup cleanup workers help minimize your damage. They lessen the risk of rotting, weakness, or mold development—structural issues that require further repairs and potential expenses.
The bottom line: our sewage cleanup professionals work quickly because they care about getting you through this disaster with as little stress and expense as possible.
If you need sewage backup cleanup in Orlando, turn to the company that puts your best interests first. Call 911 Restoration of Orlando at 321-209-6388.
What Does Full-Service Sewage Restoration Include?
We're proud to provide comprehensive sewage restoration for our neighbors in the Orlando region. If you're not sure what that means, here's a general overview.
When our sewage backup cleanup crew arrives, they quickly scan the area for any items that could be harmed during cleanup. They remove these items to prevent any additional losses.
After sewage extraction, the crew dries your property using professional blowers. They also sanitize the affected area thoroughly. This step is absolutely essential for your well-being. Sewer water may contain viruses, parasites, and disease-causing bacteria. When you have a sewage backup, it's very important that you block off the area so children and pets cannot get to it. You should also keep your distance until our sewage cleanup workers arrive.
If your sewage backup was extensive or you discovered it too late, you might have water damage. Our sewage restoration experts test for weakness, inspect for staining and look for other signs of destruction. If they discover any issues, our water damage restoration workers repair and replace all ruined surfaces. They also inspect for mold—a common issue in our humid region. If they find anything, they handle mold 911 themselves.
"Full-service" also means we care for you as well as for your property. Let our sewage restoration experts offer clarity and stress relief with a free insurance consultation. They explain what services your provider covers. They file a claim for you and bill your provider directly.
Our IICRC-certified water damage restoration crew serves both businesses and residential properties. We provide sewage backup in Orlando and nearby cities, including Deltona, Port Orange, and more.
We think of everything so you don't have to. For comprehensive sewage backup cleanup in Orlando and beyond, call 911 Restoration today at 321-209-6388.
Serving the communities of Orlando, Altamonte Springs, Apopka, Bay Lake, Casselberry, Clarcona, Clermont, Christmas, DeLand, De Leon Springs, Deltona, Daytona Beach, Doctor Phillips, Edgewater, Goldenrod, Heathrow, Hunters Creek, Kenansville, Kissimmee, Lake Mary, Leesburg, Ocoee, Okahumpka, Orange City, Orange County, Oviedo, Pine Hills, Sanford, St. Cloud, Union Park, Winter Garden, Winter Park, Winter Springs and surrounding areas.