Water Damage Sanford
There are times when the weather systems in Sanford become powerful with high winds and ample amounts of water to cause water damage issues that can only be amended by Tomas Lelczak and the professionals with 911 Restoration Orlando.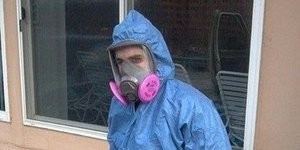 Taking on the challenges presented by water damage in any form it takes is a daily adventure for Tomas and his teams and that is how they have perfected their skills to become the industry-leading experts in the area.
"We have seen it all in our time," Tomas says, "and we've solved it all too. There really isn't any kind of water damage that we haven't taken care of in our work."
911 Restoration of Orlando – Your #1 Choice For Water Damage Restoration in Sanford, FL
With this level of expertise under his belt, there is no water damage Sanford issue that Tomas and his crews can't solve for home or business owners during their time of need. Even the most well-intentioned homeowners are not properly prepared for invading water, so when you contact the water damage Sanford professionals you can feel confident in the fact that you have trained experts on your side.
Our mold removal Sanford team is available 24/7/365, allowing you to contact our water damage Sanford staff around the clock the moment you need assistance. Once you get a hold of a mold removal Sanford technician, you will have water damage Sanford personnel at your doorstep within 45 minutes ready to patch up the issue and begin pumping water out of your home.
Same-day Water Damage Restoration in Sanford, FL
Our mold removal Sanford agents always provide same-day services for all water-based emergencies. We have enough experience to know that the longer water sits on the property the more damage it can cause.
Our mold removal Sanford pros work with IICRC-certified technicians to provide you with all types of flood and mold damage remediation. Our entire water damage Sanford operation is licensed, bonded, and insured to assist you to eradicate all water damage situations, such as the following:
Home Flooding

Leaky Shower Pans

Roof and Ceiling Leaks

Mold and Fungus

Water Heater Explosions

Mildew odor

Toilet Overflow

Ruptured Hoses

Ice Machine Malfunction Leak

Black Water

Washing Machine Leakage

Pipe Burst
In fact, our water damage Sanford crew will be at your doorstep as quickly as possible, ready to implement their water removal and drying services. Our unit understands how time is a major factor when it comes to cleaning up water damage, so our water damage Sanford operation provides same-day service for all circumstances surrounding water disasters.
The moment you discover a leak in your home or mold removal Sanford unit will do whatever it takes to get your home dry and clean again today. Don't let water and its damaging nature spill into your house and life. Contact Tomas and the water damage Sanford pros with 911 Restoration Orlando for immediate assistance today!
Flood Prevention Tips from Sanford's Finest Restoration Expert
When the people of Sanford have issues with water damage or the ancillary issues it can cause, they rely on Tomas to help them through the situation.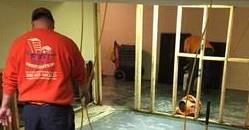 The trust that people have in Tomas comes from his high level of expertise in the industry. And his high level of skill in the industry is what allows Tomas to provide people with all the tips and tricks they need to avoid water damage in the first place.
"People should always make sure to clean out their gutters and downspouts," Tomas says. "This will help to keep spillover from pouring into the materials that maintain the roof line."
Additionally, downspouts should be positioned away from the home and discharges should be directed at least five feet away from the foundation of the building to avoid flooding.
"Always check the hoses and connectors that attach to your water-based appliances for any wear and tear that might result in a rupture or split that then causes massive amounts of water damage in your home," Tomas says. Don't let the fast-moving nature of a water damage scenario take your home by storm.
After A Flood, We Check For Mold Growth
When the rainy season arrives, our water damage Sanford professionals know that certain parts of your home are more at risk of experiencing water damage and mold growth, such as in the attic and subfloor. Our mold removal Sanford team knows that the roof and gutter systems are especially important since they are major players in keeping your internal home safe from the elements.
Our water damage Sanford staff wants homeowners to pay special attention to these areas, making sure to maintain them all year round to avoid a mold infestation. Having your roof inspected annually by our mold removal Sanford technicians are the best way to make sure no unexpected cracks, loose singles or other damage has occurred.
If any problems are found, make sure to make the repairs immediately, something our water damage Sanford agents can do for you. Our mold removal Sanford specialists today will go the extra mile to get your home fixed up in no time. So, contact Tomas and his team of specialists with 911 Restoration Littleton today and let them take care of it all for you!
Saving Sanford One Water Removal Job At A Time
Tomas and his teams have been providing water damage restoration services to the people of Sanford and the surrounding area for quite some time now, and in their tenure with the community they have come across some interesting and intense water damage finds.

"One time we went to the site of a water damage job and there was literally a creek running through the person's home," Tomas explains. "Their house had been built upon an old creek bed and with a little subsidence, nature took back over with one really heavy rainfall."
Tomas and his staff quickly provided water extraction services for the homeowner, and then did the restoration work to bring their home back to normal. On top of that, and fortunately for this homeowner, Tomas and his team found a way to divert the water so that this never happened again.
"We found a way to direct the water around the house should this ever happen again," Tomas says. And it's situations like this where Tomas always goes the Extra Mile to bring a Fresh Start to his client's homes. 
In fact for this project, the homeowner was so overwhelmed that Tomas even filed the insurance paperwork for them so they could concentrate on getting their lives back on track as quickly as possible. Don't let a creek stream through your lovely home.
Comprehensive Water Damage Restoration in Sanford, FL
When you contact our water damage Sanford pros you can rest assured. Know that you have taken the first step in getting your home, and your life, back on track. Our mold removal Sanford crews will help you with all aspects of flood remediation, including taking over the process of filing your insurance claim.
With so many years in the industry, our water damage Sanford unit has figured out exactly what information your insurance provider needs to get you the coverage you deserve. Our mold removal Sanford operation will do whatever it takes to get you affordable leak restoration service right away. 
So, contact Tomas and his teams of water damage Sanford specialists with 911 Restoration Sanford today for all the restoration work your home needs!