Sewage Backup Cleanup in Orlando
When you experience a sewage backup in your home or business, it crucial to receive professional sanitation services from sewage restoration experts that you can trust.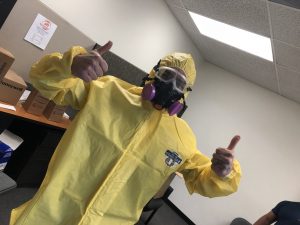 911 Restoration of Orlando is the water cleanup company that will get you through any sewage disaster, no matter what time the incident occurs. Staff members are available 24/7/365 to take your calls and answer any questions you may have.
Technicians treat a sewage backup as an emergency, which is why they guarantee to arrive at your property within 45 minutes of receiving your call, fully prepared to begin same-day services.
It is crucial to take fast action once sewage water damage has invaded your property, so if you live in Orlando or Deltona, you can rely on repair techs to arrive within the allotted time restraints to implement sewage extraction services.
911 Restoration of Orlando employs IICRC Certified technicians who will clean and sanitize your property quickly to get your home or business back up and running as soon as possible.
You can rest assured when you hire the Orlando operation you will be protected because we are licensed, bonded and insured. We have many years of experience at keeping sewage water damage under control, so you can stay calm knowing that you do not have to deal with this situation alone.
Call the 911 Restoration experts the moment you need sewage cleanup services, and professionals will start the repair process by giving property owners a free visual inspection.
Thorough Sewage Restoration Services You Can Trust
Cleaning up a sewage backup is a dirty job that requires a professional task force. Whether it is caused by a toilet clog, pipe burst, or leaky septic tank, 911 Restoration of Orlando is the team that will handle any sewage problem.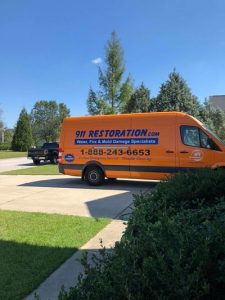 Sewage is hazardous waste filled with bacteria and toxins, which is why sewage backups should always be handled by a professional. Even when the situation looks relatively easy to clean up, the water can seep into walls and flooring, creating sewage water damage that you are not likely to see.
When sewage is not addressed right away, the wastewater can spread to previously unaffected areas of the property, resulting in further issues, such as mold growth and wood rot.
When you hire our technicians, you can trust that we will use the latest sewage cleanup and drying technology to create a sewage restoration plan specially designed for you. By implementing these comprehensive services, we will address all the issues created by the backup, including water damage, mold, and the foul odor.
We are comfortable working quickly in these situations, but make no mistake, the repair techs are incredibly thorough. Experts use both their skills and equipment to get your property back into the pristine condition you deserve. 
The primary goal of our specialists is to make this process as easy as possible for you and your family. So, call our team right away when you find sewage water damage in your property, and we will do whatever it takes to get your home looking clean and smelling fresh again.
A Professional Sewage Cleanup Company That Cares
Armed with extensive knowledge and unique skills in the field, the repair techs in Orlando make it their priority to keep you safe when amid a sewage disaster.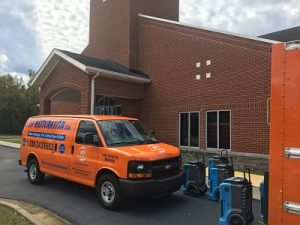 Our technicians feel that customer service is just as important as the sewage backup restoration job they are called to do. They know how overwhelming it is when your life is disrupted, especially by such a hazardous substance, so we work diligently to get things back to normal for you.
We hope that offering excellent customer service will make the situation easier to deal with and you can get through this whole ordeal feeling confident and happy with the work being done.
By keeping our prices affordable, we hope to make our services available to anyone in the community needing sewage restoration services. We also work with all insurance companies and will assist customers with filing their insurance claim.
Staff members will also go over your insurance policy with you to determine the coverage that you are entitled to receive. The goal is to make sure that you get the most out of your policy, so you never once have to worry about finances during a sewage disaster.
You can count on the repair techs to make themselves available to answer any questions you may have about the sewage restoration work being done on your property. So, call 911 Restoration of Orlando today and, before you know it, you will be given the Fresh Start you deserve.