Pipe Burst Winter Garden
Pipe burst emergencies occur when heavy rains overwhelm the water line or damage occurs to plumbing. Our pipe burst Winter Garden crew will respond within 45 minutes to any floods that your property sustains and 911 Restoration Orlando uses the latest drying technology to absorb all excess moisture as quickly as possible. Give us a call at 321-209-6388 and allow us to offer you a free visual inspection. In a climate like Central Florida, mold is almost guaranteed to grow after leaks occur due to the high humidity. Therefore, we are licensed, insure, and bonded in:
Water extractions
Mold Remediation
Sewage Backup Cleanup
Disaster Restoration
We have over 35 years of experience in all disaster restoration services and work hard to provide you with fast, thorough water removal at an affordable price. Winter Garden is a lovely, cultured town that caters to everyone, from excellent food palate, to museum connoisseurs. One pipe burst can ruin the glamour of our town. Call our pipe burst Winter Garden team at 321-209-6388 when you need water damage restoration services and we will provide you with same day service.
Who do I Call for Water Damage?
If your home suffers water damage call our pipe burst Winter Garden technicians who are available 24/7 to help you recover from sewage backup, rain leaks, and any other floods. Whether you have a toilet overflow, ruptured hoses, rain or rain leaks, our pipe burst Winter Garden specialists can help because we are working with all insurance companies to file your insurance claim and get you the professional drying and clean up services you need.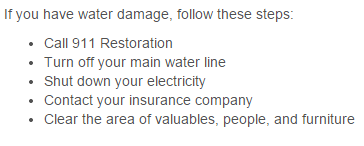 We even offer a free inspection to visually check for mold and a few tips to keep your home safe in the future. If you install a sewage back flow valve it will prevent rain water from backing up the cities water line into your home and causing a pipe burst. Replacing old appliances and repairing plumbing leaks will help you avoid a pipe burst from a misdirection of pressure. There are many ways to protect your home and it is a good idea to undertake all of them because according to the Insurance Information Institute, water damage is one of the main reasons for insurance loss. Many homeowner's insurance policies only cover damage to homes that have been well maintained. If you are deemed as negligent or if leaks persist more than 24 hours then it is possible your insurance company will deny the claim. Luckily, we can file the claim for you and provide excellent water damage restoration even if your insurance does not cover the damage. Call our pipe burst Winter Garden company at 321-209-6388 when you need a fresh start in the city of Winter Garden.