Sewage Backup Cleanup Winter Springs
Sewage backup cleanup occurs without warning throughout Winter Springs, Florida due to the storms that blow through. Our sewage backup cleanup Winter Springs crew have over 35 years of experience, so 911 Restoration Orlando understands that living in the Sunshine State still means that rain can flood the water line. When enough precipitation rains into the pipes, the plumbing will back up until a pipe burst or toilet overflow occurs. Give us a call at 321-209-6388 and allow us to offer you a free visual inspection. Our sewage backup cleanup Winter Springs team is available 24/7 to help you with:
Pipe burst
Toilet overflow
Ruptured hose
Plumbing leaks
Washer burst
Whether you have gray water or black water entering your home, it is best left to a professional. Gray water has been known to cause rashes and indigestion, where as black water can be severe enough to cause death. We are licensed, insured, and bonded to deal with all returning water safely. We will respond within 45 minutes to start pumping water from your bathroom as soon as possible. Once we finish water removal and plumbing repair, we move on to sanitation. We always put the customer first, so we will make sure you stay healthy throughout the ordeal.
Living so close to Lake Jesup means that you could end up with lake water in your home, should a hurricane or tropical storm cause the body of water to flood. When this happens, it is vital that you install a sewage back flow valve. This is a device meant to keep external water from becoming internal. A free inspection from our sewage backup cleanup Winter Springs staff will show you how to perform plumbing repair, install a back flow valve, and work your water line to stop plumbing leaks from becoming dangerous floods. Call us at 321-209-6388 when you have a pipe burst and we will offer you an affordable price on all sewage backup cleanup services, from water removal to mold remediation.
Who do I Call when I have a Pipe Burst?
If you have a pipe burst call our sewage backup cleanup Winter Springs specialists for same day service. We value professionalism, so we are licensed, insured, and bonded in all disaster restoration services. We can restore your home after the worst pipe burst emergency and show you how to protect it from future problems. We uses the latest drying technology and techniques that we have learned over 35 years of experience. When you have a pipe burst, our sewage backup Winter Park technicians suggest that you: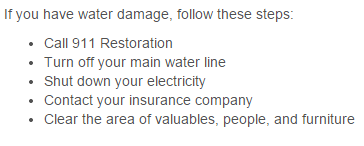 When you call us, we will respond within 45 minutes to start water cleanup. We are determined to make your home healthy again. Whether gray water stains your carpets and dry wall after a washer burst, or a ruptured hoses fills your garage or crawl space, we have the tools, expertise, and experience to help.  Call our sewage backup cleanup Winter Springs operatives when you need plumbing repair and we will work with your homeowner's insurance to keep the costs low.
Does Homeowner's Insurance Cover Sewage Backup Cleanup?
Sewage backup cleanup Winter Springs services are covered by homeowner's insurance. A pipe burst, ruptured hose, plumbing leaks, and many more emergency situations are covered under your insurance policy as long as you keep up to date on preventative maintenance. A yearly inspection of your water line, replacing worn down hoses, and only flushing appropriate materials are all part of responsible homeownership. If you fail to adhere to these chores, your insurance company may claim negligence as a cause of the problem and refuse to pay for the plumbing repairs. According to the Insurance Information Institute, Florida is the third most common state to suffer from water damage loss, so you want to stay on top of your pipes and make sure they can withstands floods and other emergencies. We can help you do that. Call our sewage backup cleanup Winter Springs experts for a free inspection today, and we will protect your property and finances from incidents that happen in the near future because we are the best sewage backup cleanup company. Our phone number is 321-209-6388 and we will always answer your phone call.
What is the Best Sewage Backup Cleanup Company in Winter Springs?
The best sewage backup cleanup Winter Springs company is 911 Restoration because we are available 24/7, we value professionalism, and we are working with all insurance companies. We will file your claim for you so that you receive the coverage you deserve. We work hard to make houses in the city of Winter Springs as good as new as soon as possible. We use the latest drying technology accompanied by odor removal equipment that will provide you with a fresh start, so call our sewage backup cleanup Winter Springs professionals today at 321-209-6388!