Benefits of Steam Cleaning Your Carpets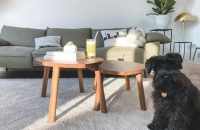 Should you steam clean your carpets or not? Is steam cleaning safe? Will steam cleaning affect the soft, furry feel of your carpets? Can steam cleaning even fight off all the stains and make your rugs look crystal clean? 
Steam cleaning carpets is an effective cleaning method that offers a range of benefits. It is healthy, safe, and quick. You would be surprised to know that steam cleaning doesn't just fight off dirt and stains. It offers additional perks that can persuade anyone into opting for steam cleaners for their rugs. 
Here we share seven intriguing benefits of steam cleaning carpets. 
Stops Mold Growth 
One of the best advantages of steam cleaning carpets is washing off the molds. Molds continue accumulating on your rugs and can cause massive allergies to you. Mold can be a concerning issue for toddlers as well. 
Anything with dampness or dust in it, and you can expect mold to grow at a higher rate than anything else. Steam cleaning carpets means sucking all the moisture from your carpeting. That helps stop mold from taking residence in your rugs. 
Boosts The Elegance Of Interior 
Steam cleaning can make your home feel cleaner and cozier. Your flooring has a significant impact on making your space look new. As you see stain-free rugs, you feel a sense of homeliness. 
A sanitized space with dust-free carpets can help you impress your guests and create a safe area for your children. You can also steam clean your wood flooring, marble counters, and bathroom tiles. That helps offer a refined look to your interior. 
Prolongs Useful Life 
Intense rubbing and scrubbing may clean your rugs and reduce their useful life. Steam cleaning doesn't harm the texture or looks of your carpets. You can remove dust and germs without fretting over the loss of fur. 
Steam cleaning carpets can even extend your rug's life because you don't need to wash them regularly. One steam cleaning session can last the carpet's thorough cleaning for more than a year! 
In addition, steam cleaning carpets doesn't involve rigorous chemical exposure that might cause color fade. That helps in maintaining the plush vibrancy of your rugs even longer. 
Fights Off Pet Smells 
Do you have pets at home, and your carpets stink because of the particular animal smell? Pet odors can be unpleasant and make your space feel suffocating and stale. Also, that unique animal smell doesn't go away from simple cleaning either. 
Steam cleaning carpets can remove even that foul pet odor and replace it with a calming tidiness. Clearing away the pet odors can even help create a stress-reliving and healthy environment for children and animals. 
Steam cleaning also assists in killing pests and flea eggs. That keeps your pet healthy and away from possible flea attacks on their fur. 
Kills Viruses And Bacteria
Steam cleaning involves passing hot steam through the rug to clean every part of the carpet thoroughly. That helps to kill germs, bacteria, and viruses efficiently. The pandemic has made everyone even more health-conscious. 
With viruses around you attacking your immune systems, you should at least keep your interior as sanitized and germ-free as possible. Steam cleaning is, thus, your valuable asset to achieve precisely that. 
Besides, keeping your carpets away from bacteria becomes even more crucial if you have children. Crawling toddlers tend to touch the floor and suck on their fingers. Steam cleaning carpets can reduce your worries of constantly checking the children and washing their hands and toys. 
Cleans Dust Better 
Steam cleaning enables you to offer a deep cleansing to your carpets. The steam also assists in removing dust better. You might think that you are being thorough as you wash your carpet. But in reality, some dust particles still stick to the rug fibers. As a result, you may still feel itchy allergies because of the dust mites lingering in the air and within the rugs. 
Steam washing carpets ensure wiping off all dust mites. You can even scrub off all dust mites that settle within your mattress and wooden furniture.  
Environment-Friendly Alternative  
Steam cleaning is a safer and more effective cleaning method for your carpeting. You don't require chemicals, making your rug-cleaning adventure to be pet and children-friendly as well! 
You don't need to worry about wandering pets stepping on opened chemical bottles or curious toddlers playing with hazardous chemical cleaning solutions. Besides, steam cleaning is also more optimal to keep the pollutants away. That's why, overall, steam cleaning carpets is a protected and safe practice for your environment and house inhabitants.  
911 Restoration Of Orlando Is A Click Away! 
Clean carpets inside your house can make your interior hygienic and safe for you and your loved ones. If you have small children, then germ-free flooring is crucial. Steam cleaning your carpets is a sound practice to wash off the germs and boost the aesthetics of your home. 
If you're searching for sanitization experts, 911 Restoration Of Orlando is there to serve! You can book your sanitization services by calling (321) 209-6388 or submitting your queries on the online contact form on the website. You can also visit the facility at 304 Palmetto St, Suite 110, Orlando, FL, 32824 to get help for your house sanitization.