Types of Damage Handled by Water Restoration Companies: An Insight from 911 Restoration
Water restoration companies, such as 911 Restoration, are pivotal in aiding homeowners and businesses recover from a wide range of water damage issues. Our role involves mitigating the immediate effects of water intrusion, preventing further damage, and restoring properties to their original state, offering peace of mind during stressful times.
Types of Water Damage
There are several types of water damage that property owners may experience. Flooding, whether from heavy rainfall, burst pipes, or appliance malfunctions, can cause severe destruction to buildings and belongings. Leaks from roofs, plumbing, or windows can gradually lead to extensive structural damage and mold growth.
Sewage backflows pose another serious concern, introducing harmful bacteria and viruses into a property and presenting a severe health risk. Lastly, natural disasters such as hurricanes, tsunamis, and storms can cause significant water damage, often affecting large areas and many properties.
Procedures for Each Type of Damage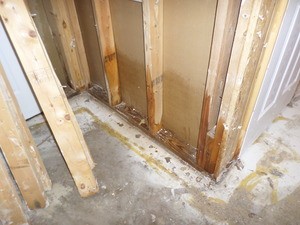 Every type of water damage requires a unique approach for assessment and mitigation. For instance, flooding involves assessing the source of water, the extent of the damage, and the type of water involved (clean, gray, or black water) before we can begin the mitigation process, which may include water extraction, drying, sanitization, and restoration.
The restoration techniques also differ based on the type of damage. In the case of leaks, the source must be repaired, followed by drying, dehumidifying, and potentially mold remediation. Sewage backflows require extensive sanitization and biohazard cleanup, while natural disasters may call for a more extensive range of restoration services due to the large scale of damage.
911 Restoration is Certified to Handle Any Restoration Need
911 Restoration is a professional water damage restoration company that handles all types of water damage. With our highly trained team and advanced equipment, we're able to tackle a broad spectrum of water damage scenarios.
For instance, we have handled numerous flood damage cases where our fast response has minimized further damage and costs. Leak detection and repair is a common service we provide to homeowners, saving them from potential long-term damage. We've also managed sewage backflow incidents, ensuring affected properties are thoroughly cleaned and sanitized, and the health risks are mitigated.
We Value High Level Communication and Quality Service
Water restoration companies handle an array of damage types, each requiring a specific set of skills and procedures to restore the property effectively. Hiring a IICRC-certified professional service like 911 Restoration is crucial to ensure proper damage assessment, efficient water removal, comprehensive cleanup, and high-quality restoration.
At 911 Restoration, we understand the importance of great communication during these stressful emergencies. Keeping you informed and reassured every step of the way, we aim to make the restoration process as smooth and straightforward as possible for you. Because your peace of mind is our priority.