Fixing The Laminate of Your Floor After Water Damage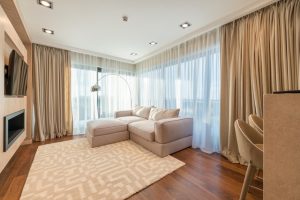 Laminate is one of the most sought-after flooring options among homeowners in and around Orlando. Homeowners prefer laminate for numerous reasons such as:
Affordable pricing
Excellent durability
High visual appeal
Laminate flooring is a multi-layer and synthetic flooring that resembles natural wood in appearance. The core layer of laminate flooring is primarily manufactured from fiberboard and melamine resin material. The top layer is beautifully imprinted with a textured image made to imitate the wood texture look.
Although it is extremely durable to stains and fade, water can wreak havoc on laminate flooring if not cleaned properly. Also, there is no denying that time is of the essence when it comes to fixing the laminate of your floor after water damage. In such as situation, reach out to the home restoration experts. Call 911 Restoration of Orlando to save and protect your laminate flooring from severe damage and a high replacement cost.
What Happens Laminate Flooring Comes in Contact With Water?
It is essential to understand that laminate flooring is not compatible with humid environments or water. It can be irreversibly damaged when exposed to water or moisture. That's precisely why manufacturers advise homeowners not to laminate floors in rooms with moisture or humidity fluctuations.
Although if water spills on top of the laminate flooring, it is easy to clean and fix. Use a cloth to wipe up the area. However, the problem occurs when the water seeps under the flooring.
Extension gaps are kept underneath the laminate floor for expansion and contraction purposes. This is necessary but can provide water passage to seep underneath, which can do a great deal of damage to the boards. Therefore, it is crucial to take action fast to minimize the damage, if not prevent it 100 percent. Reach out to our home restoration company. We will visit your home in less than 45 minutes and fix the problem ASAP.
Here's how our certified experts in home restoration after water damage can help you fix your laminate flooring after water damage:
·      Spot the Water Source to Stop Further Damage
Apart from the flooding caused by heavy rainfall, other sources of water damage to your flooring can be ruptured pipes. Underground pipes can get damaged due to many reasons such as:
The use of heavy machinery during landscape modifications
Old and worn-out pipes
Corrosion and rust
Extreme temperature
Our team will identify the source and get the problem fixed before more damage is done to the laminate flooring. Identifying the root cause of the problem is crucial because if that is not addressed and leaks continue to exist, repairing the flooring will not help, and it will get damaged again.
·      Examine the Water Damaged Area
As water seeps quickly, our team will examine your flooring carefully to identify all the affected areas of the laminate floor. Damaged boards feel and look different. Their movement suggests that water is underneath. Also, water-damaged boards get discolored easily.
·      Remove Damaged Boards
The next step to fixing laminate of the floor after water damage is to remove all the discolored and damaged boards. These boards are designed with a locking system. Therefore, they must be removed carefully. Our professionals are well-equipped and can remove the damaged laminate boards in the fastest time.
Removal of the panels will help address water damage and ensure that it doesn't trigger the growth of mold and mildew. Mold and mildew can build up underneath the wet laminate boards. They thrive in wet and moist conditions and can increase the risk of health conditions like asthma and other breathing problems.
·      Replace the Damaged Boards
Once the damaged boards are removed, our team will quickly replace them with new boards. As most installation work use packs of laminate boards, if extra boards are available, we will use them. If not, then we will arrange boards for the replacement and install them professionally.
At 911 Restoration of Orlando, our goal is to provide homeowners with the best and prompt home restoration services with complete satisfaction. Therefore, when you contact us, we come to your service in the shortest time, and well-equipped.
We assist you from start to finish, ensuring that all work is carried smoothly and seamlessly with zero hassle or stress. We strive to complete the job of home restoration after water damage fast and cost-efficiently so that you can resume living peacefully and without facing any inconvenience.
We are a trusted and established home restoration company specializing in mitigating any types of problems that may occur from water damage in your home or office. Our certified staff can ensure that no further issues arise in your laminate flooring. Give us a chance to help you. We promise you that you will be happy with your decision.
Remember that timing is everything when it comes to protecting laminate flooring from severe water damage. Don't spend time fixing it by yourself. Contact our team right away.